Easy Lemon Baked Donuts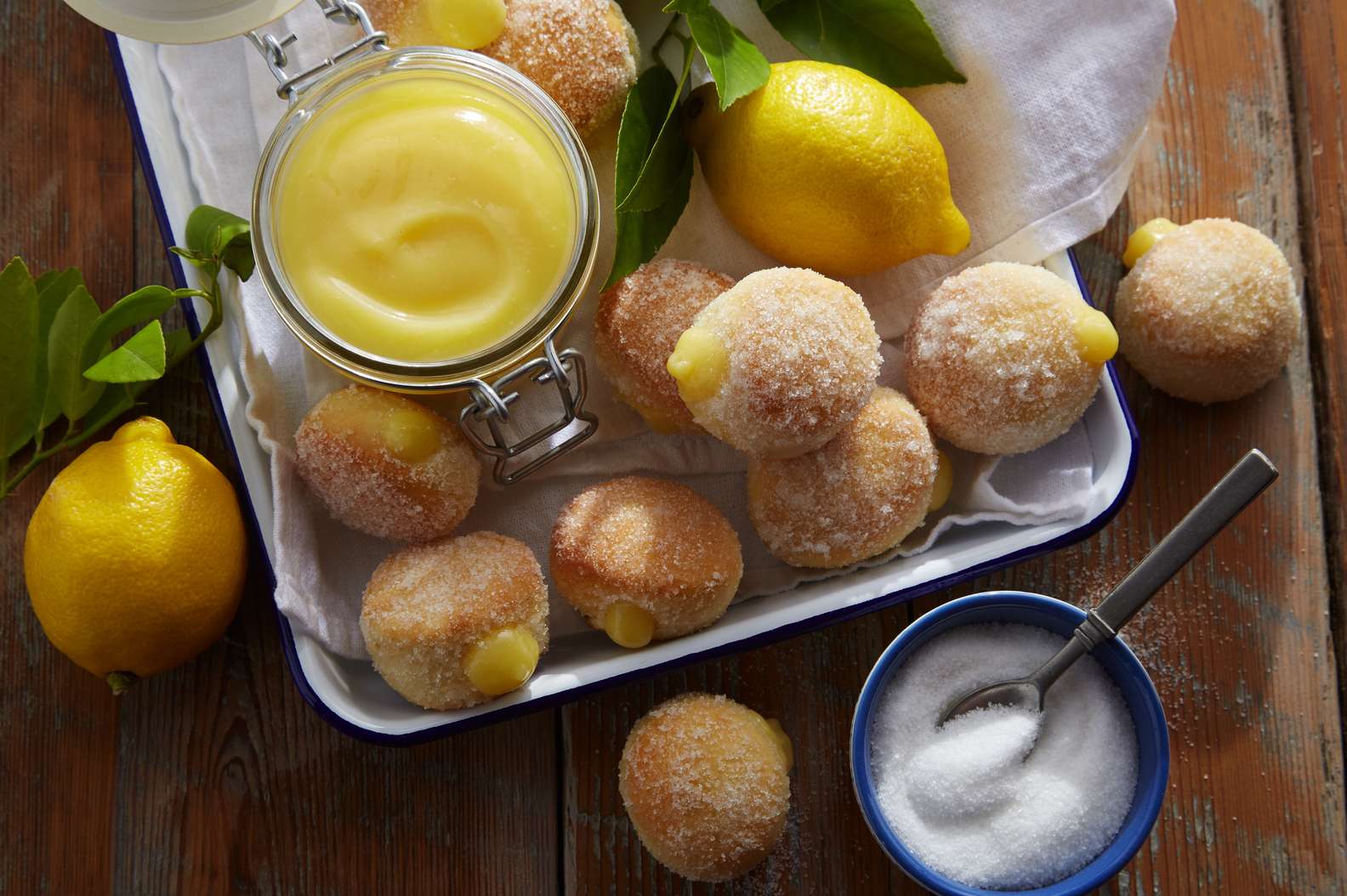 While a 20-person ugly sweater party may not be in the cards this year, holiday traditions can still take shape — just on a smaller scale. For couples who are usually debating whose family to spend the holidays with, use this year's holiday at home to start a new tradition together: be it chopping down a real Christmas tree, sporting matching Hanukkah-themed PJs, or skipping cooking a big holiday meal in favor of ordering takeout and watching classic movies. For those celebrating solo, try out a new recipe you could bring to a larger family gathering next year — or even cook virtually with loved ones from afar. These donuts, for example, can keep fresh for a few days, helping you feel festive all week long. Be sure to have some extra eggs on hand so you can try new baking projects like this one.
---
Easy Lemon Baked Donuts
Ingredients
2 ½ teaspoons active dry yeast, or 1 packet

⅔ cup milk, warmed to 110°F

1 cup granulated sugar

6 large eggs

3 ½ cups all-purpose flour

1 ¼ teaspoons salt, divided

¾ cup + 2 tablespoons unsalted butter, divided and softened

½ cup fresh lemon juice (from about 2 large lemons)

2 tablespoons lemon zest
Directions
In the bowl of a stand mixer, add yeast, milk, and 2 teaspoons sugar. Let stand 5-8 minutes, until foamy. Whisk in 3 tablespoons + 1 teaspoon sugar and 3 eggs. Add about half of the flour and 1 teaspoon salt to the bowl. Use a dough hook attachment to mix until dough comes together.
Add the remaining flour to the dough and mix. Slowly add ½ cup butter and beat on medium speed, until a smooth dough forms, about 4 minutes.
Prepare a bowl with nonstick cooking spray, then place dough in the center of the bowl. Cover with plastic wrap and refrigerate overnight.
To make the lemon curd, place 3 eggs, ¾ cup sugar, ¼ teaspoon salt, lemon juice, and lemon zest in a saucepan. Whisk until combined, then place over low heat. Stir constantly, until mixture thickens, about 4-6 minutes. On very low heat, add ¼ cup butter and stir until smooth. Strain lemon curd into a bowl and cover with plastic wrap. Allow to cool about 10 minutes, then refrigerate overnight.
Flour a flat surface and roll dough about ½-inch thick. Use a 1½-inch round cutter to cut out donuts. Place on parchment-lined baking sheets, about 1 inch apart. Roll remaining dough together and repeat the process to create a total of 32-36 donuts. Cover with plastic wrap and allow to rest about 30 minutes, until puffy.
Preheat the oven to 375°F. Bake donuts 8-10 minutes, until golden brown.
Melt 2 tablespoons butter, then brush onto donuts. Coat with sugar, then poke a hole in the side of each donut.
Fill a pastry bag, fitted with a small piping tip, with lemon curd. Pipe about 1 teaspoon of curd into each donut.
Serve and store leftovers up to 3 days.
---
---