Mexican Meatball Soup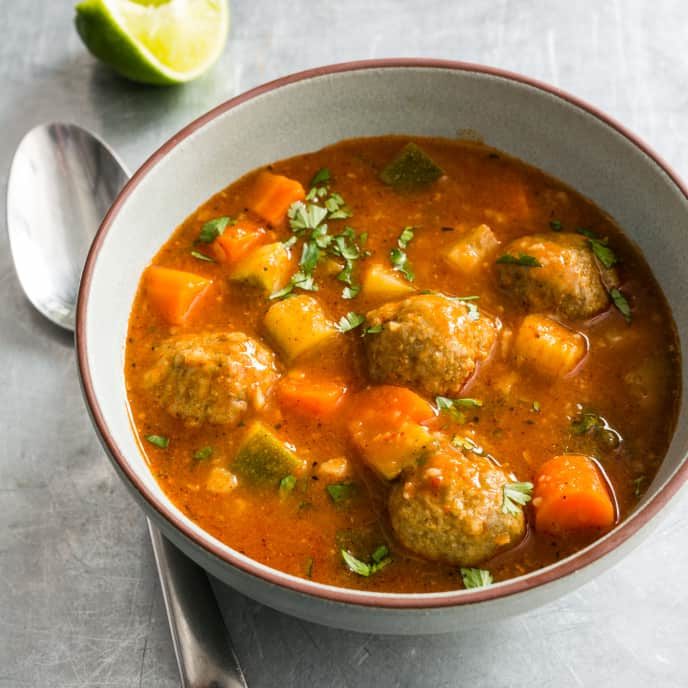 This recipe is dedicated to my Mommy O., who instilled in me a love of all things cozy.
A robust, tomatoey broth studded with flavorful meatballs and tender vegetables, this is our family's favorite winter warmer soup.
I've been serving this up all week for our lunches. It warms us up, from the inside out.

Mexican-Style Meatball Soup
A #60 scoop will make quick work of portioning the meatballs, and moistening your hands with water will make them easier to shape.
Ingredients
Meatballs

7 (6-inch) corn tortillas, quartered

1 cup fresh cilantro leaves and stems

1 large egg

2 tablespoons chicken broth

4 garlic cloves, chopped coarse

1 teaspoon salt

¼ teaspoon pepper

1 pound ground pork

Soup

1 (14.5-ounce) can diced tomatoes

1 onion, quartered

1 ½ tablespoons chili powder

4 garlic cloves, chopped coarse

2 teaspoons minced canned chipotle chile in adobo sauce

1 teaspoon dried oregano

Salt and pepper

1 tablespoon vegetable oil

6 cups chicken broth

2 zucchini, cut into ½-inch pieces

2 carrots, peeled and cut into ½-inch pieces

Lime wedges

¼ cup chopped fresh cilantro
Directions
For the meatballs:
Pulse tortillas in food processor until finely chopped, with no pieces larger than ½ inch, 15 to 20 pulses.
Set aside ¾ cup processed tortillas for soup.
Add cilantro, egg, broth, garlic, salt, and pepper to processor with remaining tortillas and process until smooth, about 1 minute, scraping down sides of bowl as needed.
Transfer tortilla mixture to large bowl.
Add pork and mix with your hands until thoroughly combined.
Divide mixture into about thirty-two 1-tablespoon portions.
Roll portions between your wet hands to form meatballs.
Transfer to plate, cover with plastic wrap, and refrigerate until ready to use. Meatballs can be refrigerated for up to 24 hours.
For the soup:
In clean processor, process tomatoes and their juice, onion, chili powder, garlic, chipotle, oregano, 1 teaspoon salt, and ¼ teaspoon pepper until smooth, about 30 seconds, scraping down sides of bowl as needed.
Heat oil in Dutch oven over medium-high heat until shimmering.
Add tomato mixture and cook, stirring occasionally, until well browned and starting to stick to bottom of pot, 10 to 12 minutes.
Stir in broth, zucchini, carrots, and reserved processed tortillas.
Add meatballs to pot and bring to boil.
educe heat to medium and simmer until meatballs are cooked through and vegetables are tender, about 15 minutes. Season with salt and pepper to taste.
Serve with lime wedges, sprinkling individual portions with cilantro.
---
---