Chicken Chili with Cheesy Hushpuppy Crust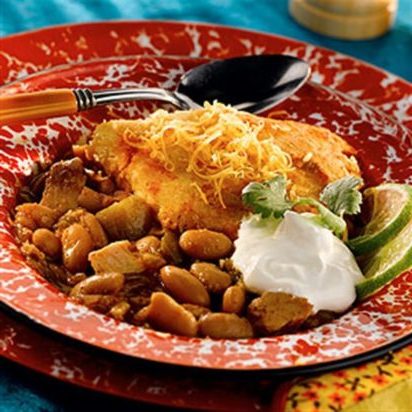 Mom was a wiz in the kitchen, too. She was never afraid to try something new. When circumstances found us with 105 rabbits one summer, she was even able to find a close friend to fry some of them at a local Kentucky Fried Chicken for a change of pace. Mom could also take anything Dad gave her and turn it into a delicious and rich casserole. Usually fresh veggies and meat in a homemade, creamy gravy topped with a flaky crust. They were often the first dish to be scraped clean out our church potlucks. Generosity was a word that I learned early whilst growing up. Mom and Dad would often invite people into our home to share our evening meal with our family. Whether they were friends from our church, my father's construction coworkers, or even complete strangers who happened to knock on our door to sell us encyclopedias or cleaning products they never got up from the table still hungry.
Chicken Chili with Cheesy Hushpuppy Crust
Ingredients
Chili

1 tablespoon olive oil

1 1/4 cups finely chopped sweet onion

2 cloves garlic, minced

1 medium red bell pepper, chopped

1/2 teaspoon ground cumin

1 tablespoon chili powder

2 tablespoons fresh lime juice

1 (19-ounce) can cannellini beans

2 cups cooked chicken, chopped

1 (14-ounce) can chicken broth

1 (4 1/2-ounce) can mild green chiles, drained

Cheddar Hushpuppy Crust

1 egg

1/2 cup milk

3 tablespoons butter or margarine, melted

1 (6-ounce) package cornbread mix (recommended: Martha White brand Cotton Pickin' or Buttermilk)

1 cup shredded cheddar

Garnish

1/2 cup Sour cream, optional, for serving alongside

1/2 cup of salsa, optional, for serving alongside

1/4 cup chopped cilantro, optional, for serving alongside
Directions
Chili
HEAT oven to 400°F. Heat oil over medium heat in 10 1/2-inch cast iron skillet. Add 1 cup onion, garlic, green pepper, cumin and chili powder; sauté about 3 to 5 minutes or until vegetables are tender. Add remaining filling ingredients; simmer about 10 minutes.
Cheddar Hushpuppy Crust
BEAT egg in medium bowl. Add milk, butter and cornbread mix; mix well. Stir in 1/4 cup onion and cheese. Pour over chicken chili in skillet.
---
---