Not Your Average Tuna Fish Salad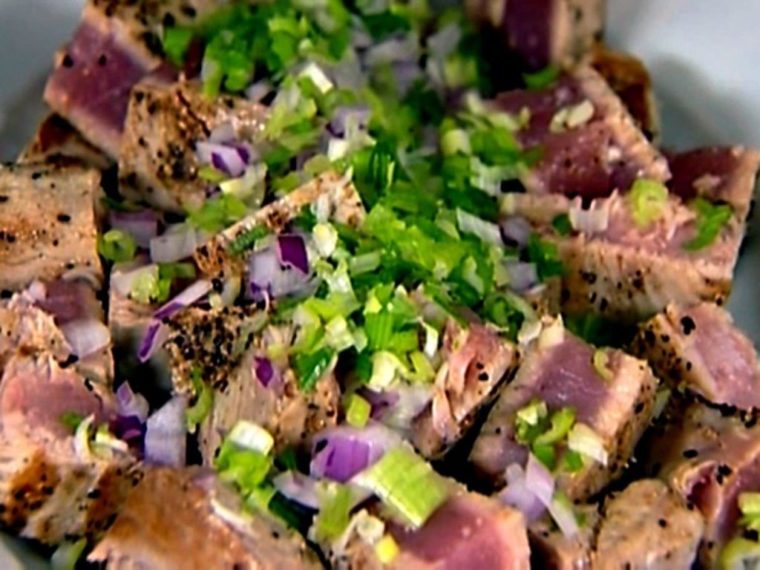 I make a half recipe of this for lunch at least twice a month. Even though the avocado keeps for a day in this salad, I prefer fresh avocado so typically make a smaller batch for Joshua and I. If you halve the recipe, go ahead and use a whole avocado. I've never heard anyone say, "gee, this has too much avocado."
Also, I use frozen fish for this recipe more often than not. While it's a nice luxury to be able to pick up a fresh tuna steak from Whole Foods for this recipe, the reality is I keep a 2 lb package of wild caught tuna steaks in my freezer most of the time, so this is my go to. As long as I don't overcook it on the sear – it is one of my favorite lunches, fresh, frozen, however!
---
Not Your Average Tuna Fish Salad
One of my favorites from the Barefooot Contessa.
Ingredients
2 pounds very fresh tuna steak, cut 1-inch thick

4 tablespoons olive oil, plus extra for brushing

2 1/2 teaspoons kosher salt, plus extra for sprinkling

1/2 teaspoon coarsely ground black, plus extra for sprinkling

2 limes, zest grated

1 teaspoon wasabi powder

6 tablespoons freshly squeezed lime juice (3 limes)

2 teaspoons soy sauce

10 dashes hot sauce (recommended: Tabasco)

1 to 2 ripe Haas avocados, medium diced

1/4 cup minced scallions, white and green parts (2 scallions)

1/4 cup red onion, small diced
Directions
Brush the tuna steaks with olive oil, and sprinkle with salt and pepper. Place the tuna steaks in a very hot saute pan and cook for only 1 minute on each side. Set aside on a platter, and cover with foil.
Meanwhile, in a small bowl, combine the olive oil, salt, pepper, lime zest, wasabi, lime juice, soy sauce and hot sauce. Add the avocados to the vinaigrette.
Cut the tuna in chunks and place it in a large bowl. Add the scallions and red onion. Pour the vinaigrette mixture over the tuna and carefully mix.

Tips: This recipe can be easily halved and if you are only cooking for 1 or 2, and I would definitely recommend it as even a half recipe makes quite a bit.
---
---