Orange Sweet Rolls that taste like sunshine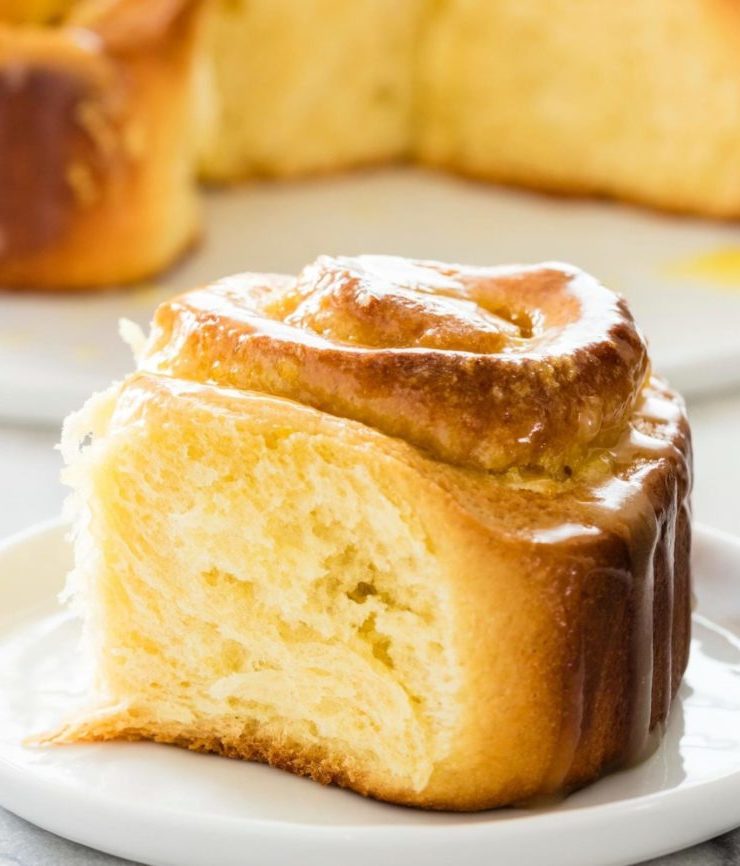 I was raised in Austin Texas by parents who didn't always have the income to put out a lavish spread on the table for my brother, sister and I. However, they were hard workers and had the intelligence and competence to turn even the meager into good eats. Dad raised rabbits and ducks, and Mom was constantly pulling fresh tomatoes, okra, and greens out of the garden. Even during the leanest times we ate wholesomely. Dad tackles every recipe with the same inspired excellence he does his carpentry. Some mornings when I was young, we would wake up to him making cinnamon rolls from scratch at the kitchen table. His overalls powdered with flour and the smell of cinnamon on his cheek as I kissed him good morning.
Following in Dad's footsteps, but with my own little twist I give you the orange roll. A sweet ray of sunshine breakfast treat I fell in love with when my mom lived in Birmingham for a short time. One bite of one of these pillowy soft breakfast rolls and you will get all the feels of home. Initially I was intimidated to make my own rolls, the 3 step process seemed daunting, however, if Dad could do it, so can I, so I forged ahead and was rewarded by this recipe . The dough is a dream to work with. Also, these rolls rose quite large, so make sure don't try and squeeze these into one 9×11″ pan.
Orange Sweet Rolls that taste like sunshine
Ingredients
Dough

3 cups (15 ounces) all-purpose flour

1/4 cup (1 3/4 ounces) sugar

2 1/4 teaspoons instant or rapid-rise yeast – 1 packet

1 teaspoon salt

1/2 cup orange juice , warm (110 degrees)

1/4 cup heavy cream

6 tablespoons unsalted butter , cut into 6 pieces and softened

1 large egg plus 1 large yolk

Filling

1/2 cup (3 1/2 ounces) sugar

3 teaspoons grated orange zest

2 tablespoons unsalted butter, softened

Glaze

1/4 cup heavy cream

1/4 cup (1 3/4 ounces) sugar

2 tablespoons orange juice

2 tablespoons unsalted butter

1/8 teaspoon salt
Directions
Combine first 8 ingredients in your stand mixer fitted with a dough hook. Knead on medium for a few minutes until dough comes together, then crank up your mixer a notch and knead about 8 minutes longer till dough is stretchy and supple.
Transfer to a lightly floured surface and kneed into a smooth ball. Resist the urge to play with it like Play-Doh.
Put into a greased bowl and cover tightly with plastic wrap. Let rise in warm space, free of drafts, until double in bulk about 2 hours.
For the filling combine grated orange zest and half a cup sugar in a small bowl. Set aside.
Roll out the dough on lightly floured surface in rectangle 16 by 8 inches with the long side parallel to the counter's edge.
Spread softened butter on the dough, then sprinkle sugar mixture over the whole thing except along the farthest edge where the seam will be.
Then roll the dough tightly away from you and pinch to seal the seam.
Grease dark colored 9-inch cake pans and line the bottoms of both with parchment paper, then grease parchment. Gently roll the log seem side down and cut, with a serrated knife, eight 2-inch thick rolls. Place the first in the center of the pans with the others placed around the edges. Cover with plastic wrap and let rise until doubled, about 1 1/2 hours. Adjust oven rack to middle position and heat to 325 degrees F.
Discard plastic and bake rolls until golden brown on top and interior of center roll registers 195 degrees, 40 to 45 minutes. Let rolls cool in pans for 30 minutes.
Once the rolls have cooled for 30 minutes, combine the 1/4 cup cream, 2 tbsp OJ, 1/4 cup sugar and 2 tbsp butter in a small saucepan over medium high heat to a boil. Cook stirring frequently, until large, slow bubbles appear and mixture is syrupy, about 4 minutes. Using spatula, loosen rolls from sides of pans and slide onto platter, discarding parchment. Brush glaze over tops of rolls and serve warm.
Rolls can be reheated in a microwave oven for 10 seconds
---
---